Wednesday I went on one last day trip. There were still a couple things that I really wanted to do that I hadn't yet. We started the day with the floating markets which are so beautiful! I've always had a crush on them and was really excited to experience it in person. We go to go on a bit of a boat ride and walk around. I ate some good food and took a LOT of pictures... sorry if they get a little boring!
Next we had some time to kill so we went to the snake farm where I wore a python around my neck and then saw a crazy show. One guy messed with a cobra and then they milked it to show us that it really did have it's fangs. It's supposedly good luck to touch a cobra so they brought it around so we could all touch it. Then they had a mongoose in a cage and they put the cobra in it so we could see how the mongoose attacks them... crazy! They had to pry the cobra away from it so it wouldn't kill it! Then they wrestled with a huge boa constrictor. And lastly this crazy guy brought out 3 snakes and caught one in each hand and the 3rd in his mouth.
Next was the highlight of the trip... The tiger temple! I got to pet tigers! It was so awesome! But you don't really get enough time to revel in the fact your touching a tiger. But anyway, there are tons of pics. They claim that they are not sedated and that they have just been acclimated to humans at a very young age and usually sleep during the day, so are just real lazy... but I don't know. They did open their eyes every once in a while and I did see one get up, turn around, and lay back down. After pics with the big tigers I got to see some baby ones that were only one month old and another that was 4 months. In addition to tigers they had some wild boars, water buffalo, deer, and peacocks.
Out last stop was the bridge over the river Kwai. I don't' know that I've actually watched that movie... but anyway. It was a really nice view and I got to walk across the bridge... which was a little bit scary. It's a railroad track and there are defiantly parts where you can see the water underneath you!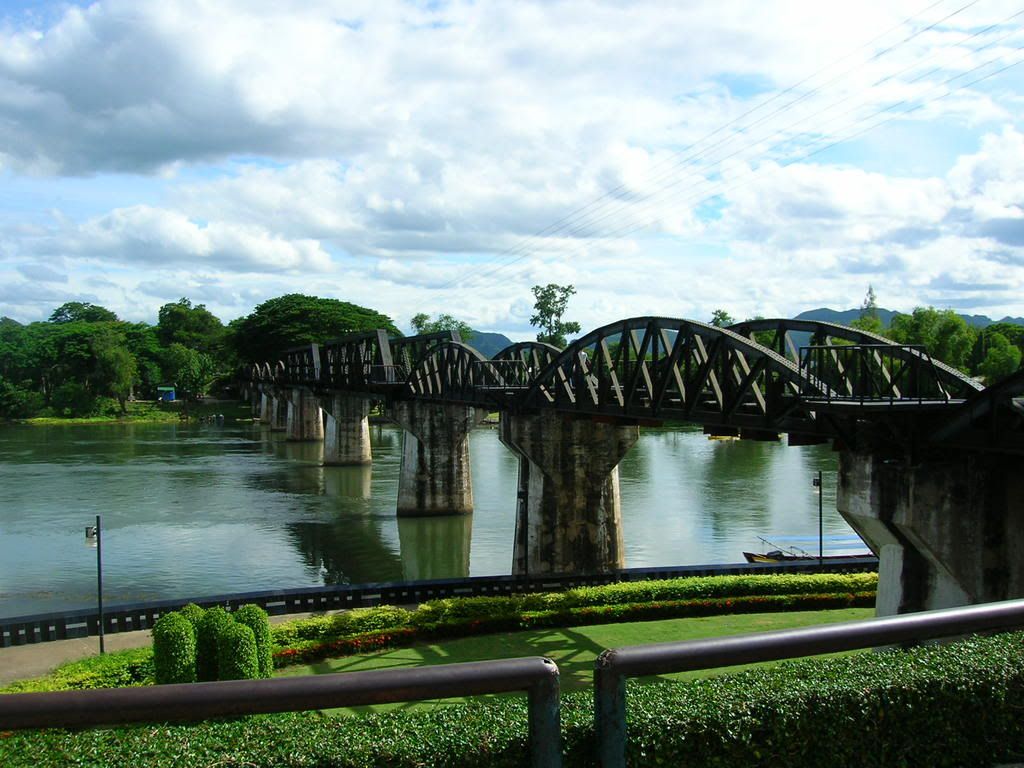 Tonight is my last night in Thailand. I can't believe it's time to come home already! Still feels like I just got here, but in a lot of ways I'm ready to be home. Nothing really exciting to tell about of my last couple days. Just finishing up stuff and getting prepared to leave. If I find there's anything else, I'll post it when I get back. Hope you had fun keeping up with me! Oh, by the way... the photos are filed under Last Trip and then subfolders from there.